| About Us | Photo Gallery | WEDDING PACKAGES | Referrals for Wedding | FAQs | Contact Us | AWDRA | Memorials | Contract | Standards of Conduct
|
Home
Frequently Asked Questions
of members of the International White Dove Society
www.whitedovesociety.com
Questions and Answers
Where do the doves go when released?

The doves have been trained to return to their home loft. People often ask if all doves will fly home. NO. Only those that have been properly bred with the homing instinct and correctly trained. NEVER release doves that have not been trained to return home. Pet store birds or Turtle Doves should never be released because they cannot be trained to return.
How do Release Doves know where home is?
Nobody really knows. But a well-trained dove can navigate 100's of miles to find the way home. There are documented flights of over 1000 miles. But most white dove release businesses keep within about 50 to 100 miles from home.
Will they make a mess at the ceremony?


It cannot be guaranteed, but birds usually do not defecate when flying so the chances are slim. Furthermore, the birds usually have a special diet before big events so they can perform at top levels without messing up.
When will the birds be released?


This is entirely up to you! There can be a lot of creativity in the timing and location of your release. Discuss this the person doing the release so we can plan the event perfectly. We never release birds close to sunset or after dark. They must have time to fly home before dark.
What if it rains on the day of our ceremony?


For 'Acts of God' such as rain, snow, high winds or other adverse situations, we reserve the right to cancel the dove release. We will not jeopardize the health and well being of our beloved doves. In this event all deposits are fully refundable. Display Packages are not cancelled because of weather.
---
South Florida White Doves
White Dove Releases for Weddings, Funerals, Memorials,
Grand Openings, Anniversaries, Birthdays or any Outdoor Celebration.

PALOMAS BLANCA PARA BODAS!
Herbie Tomas
Owners/Manager
P.O. Box 173001 
Miami Lakes, FL 33017-3001

Phone:  305-778-2232  
info@southfloridawhitedoves.com


Professional Member of the International White Dove Society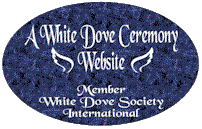 Hosting Beyond The Sidewalks



SITE INDEX
Title: Frequently asked questions about White Dove Releases White Dove Releases in south Florida, Miami, Fort Lauderdale, Dade, Broward. Palomas Blacas Para Bodas, South Florida White Doves
Description: Frequently asked questions about white doves and their release. They are not harmed and will return home. South Florida White Doves is the biggest and oldest dove release business in so. FL. and featured in Animal Planet, music videos and print ads. Member of White Dove Society, www.whitedovesociety.org
Keywords: trained doves, homing instinct, navigate many miles white dove doves release Wedding, pure white birds, release on the beach, symbolism of doves, The Knot, bridal show, south Florida, Miami, Fort Lauderdale